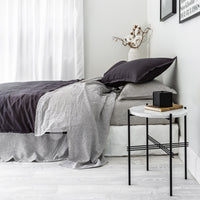 French Flax Linen
Designed in Australia and made from 100% French Flax, our linen is stone washed for a soft, subtle texture. Totally natural and breathable.
Our sets are all designed exclusively by Alan + Ella to give your Bedroom that special European flair and in addition are reversible to allow you to match your style to your mood.
There is total attention to detail, with the fashion ties on the duvet cover we avoid those irritating buttons that continually get lost or damaged.
* Free shipping within the continental US Terms + Conditions apply